The Boundary and You
Did you know?
Water boundaries are referenced to permenent markers on the shore.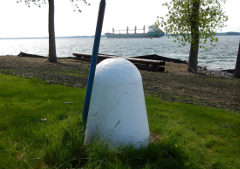 The position of boundary points in water course is know in relation to physical reference markers installed on the shore.
Boundary Facts
The International Boundary Commission, under International Treaty, maintains the 8,891 km (5,525 miles) boundary shown on 256 official boundary maps. The Commission inspects, maintains and re-establishes over 8,000 monuments and reference points, 1,000 survey control sites and keeps a 6 metre or 20 foot wide clear vista along the land boundary line.
Boundary on Land 5,061 km or 3,145 miles
Identified by a series of straight lines which intersect at boundary monuments
2,172 km (1,350 miles) through forest which requires clearing of a 6 metre (20 feet) vista, on a regular basis
5,528 boundary monuments
5,700 triangulation stations
Shortest distance between two boundary monuments: 46 cm (18 inches)
Boundary on Water 3,830 km or 2,380 miles
Identified by a series of straight lines which intersect at unmarked turning points (except for Turning Points 158 and 159 in Lake Erie and Turning Points 106 and 107 in Lake Ontario, where the boundary follows the parallel of latitude)
5,723 Turning Points
2,457 Reference Monuments
Length of Boundary by Province/Territory
New Brunswick - 513 km or 319 miles
Québec - 813 km or 505 miles
Ontario - 2,760 km or 1,715 miles
Manitoba - 497 km or 309 miles
Saskatchewan - 632 km or 393 miles
Alberta - 298 km or 185 miles
British Columbia - 2,168 km or 1,347 miles
Yukon - 1,210 km or 752 miles
Length of Boundary by State
Maine - 611 miles or 983 km
New Hampshire - 58 miles or 93 km
Vermont - 90 miles or 145 km
New York - 445 miles or 716 km
Pennsylvania - 42 miles or 68 km
Ohio - 146 miles or 235 km
Michigan - 721 miles or 1,160 km
Minnesota - 547 miles or 880 km
North Dakota - 310 miles or 499 km
Montana -545 miles or 877 km
Idaho - 45 miles or 72 km
Washington - 427 miles or 687 km
Alaska - 1,538 miles or 2,475 km
Length of Canada- United States Boundary from the Atlantic to Pacific Oceans
6,416 km - 2 878 km of land + 3 538 km of water
or
3,987 miles - 1,788 miles of land + 2,199 miles of water
Length of Canada-United States Boundary from the Pacific to Arctic Oceans
2,475 km - 2,183 km of land + 292 km of water
or
1,538 miles - 1,357 miles of land + 181 miles of water